Honeyview Image Viewer
Honeyview Image Viewer provides ultrafast rendering with optimized image processing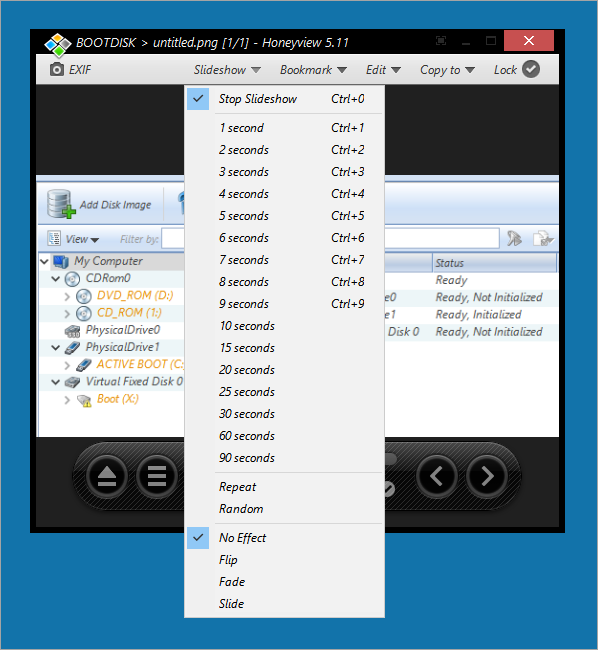 Features:
Support for Various Image Formats - BMP, JPG, GIF/Animation GIF, TIFF, PNG, TGA, PSD, JPEG 2000(JP2, J2K), JPEG XR/HD Photo (JXR, WDP, HDP), Adobe Digital Negative (DNG), DDS, WebP and PCX formats are supported.
Direct View for Compressed Files - images can be viewed without extracting (but with memory decompressing) compressed files (ZIP/CBZ, RAR/CBR, ALZ, EGG, LZH, TAR, 7Z, HV3, CAB and ISO).
EXIF View - Click the

EXIF

button in the upper-left corner to display EXIF information along with the file information.
GPS View - Many smartphone photos (taken by iPhone or Android) include GPS information. It displays GPS information of a photo on Google Maps.
Slideshow View - Click the

Slideshow

button on the top of the window to start a slideshow with the currently displayed pictures at a certain interval (1–90 sec).
Add/Edit Bookmarks - Click the

Bookmark

button on the top of the window to go to frequently viewed images.
Copy/Move to Photo folder - Click the

Photo folder

button in the upper-right corner to copy/move the currently displayed photo to

Photo folder 1

or

Photo folder 2

.
Support for Keyboard Shortcuts -

Honeyview

supports many keyboard shortcuts for user convenience.
Support for Sound & Shot Files -

Honeyview

supports Sound & Shot files and the audio file to which image and sound is simultaneously recorded.
Fast Image Processing - Optimized image processing provides faster image loading and filtering than competitors
Support for Unicode - Unicode is supported to fully display Chinese, Russian, Japanese etc.
Auto Image Rotation - With EXIF information,

Honeyview

automatically rotates a picture to the correct position.
Support for 64-bit OSes -

Honeyview

fully supports 64-bit OSes for faster processing.
To launch Honeyview from the Active@ Boot Disk shell, click Start > Utilities > Honeyview Image Viewer