7-Zip File Manager
7-Zip is a file archiver with a highest compression ratio. Usually, 7-Zip compresses to 7z format 30-70% better than to zip format.
7-Zip File Manager – two panel file manager, being able to browse, preview, copy, move, rename and delete files and folders, as well as create and de-compress file archives of different formats.
It is an open source software, most of the source code is under the GNU LGPL license.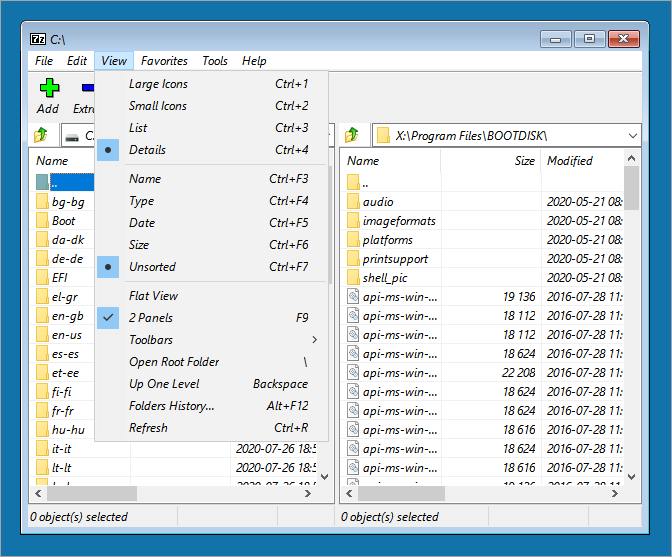 Main features:
High compression ratio in 7z format with LZMA and LZMA2 compression
Supported formats:

Packing / unpacking: 7z, XZ, BZIP2, GZIP, TAR, ZIP and WIM
Unpacking only: ARJ, CAB, CHM, CPIO, CramFS, DEB, DMG, FAT, HFS, ISO, LZH, LZMA, MBR, MSI, NSIS, NTFS, RAR, RPM, SquashFS, UDF, VHD, WIM, XAR and Z.

For ZIP and GZIP formats,

7-Zip

provides a compression ratio that is 2-10 % better than the ratio provided by PKZip and WinZip
Strong AES-256 encryption in 7z and ZIP formats
Self-extracting capability for 7z format
Integration with Windows Shell
Powerful File Manager
Powerful command line version
To launch 7-Zip from the Active@ Boot Disk shell, click Start > Utilities > 7-Zip File Manager